Cincinnati Jazz Memories of Saxophonist Chris VonVolborth
Back in the early 60s when I was just starting to play around with the saxophone there were numerous jazz bars in Cincinnati which I frequented. I had to lie about my age but I don't think anyone really cared. The clubs were Babe Baker's on Reading Rd., across from the Cabana Lounge. Then there was the Green Lantern on Boone Str. near Peebles Corner and of course the famous Herbie's Bar on Taft and Hackberry. I caught Al Grey and Billy Mitchell, Sonny Stitt, Benny Golson, and the Wes Montgomery Trio at the Cabana Lounge.
I was a regular at Babe Baker's where Jimmy McGary played with Jim Madison on organ. John Wright's Quintet were regulars at Herbie's Bar where, thanks to John's kind forbearance I learned the beginnings of my craft by frequently sitting in. While there I first met Jimmy Anderson, a fellow neophyte. Jon's Quintet included Hickey Kelly, Champ Childress, Sam Jackson or Charlie Wilson, Lee Tucker, and others whose names are now forgotten. Curtis Peagler's Jazz Disciples played in many of these places as well. He enhanced his quintet at the Green Lantern by adding Jamaal Halbert on vibes. I also caught Jamaal's act at the Club Safari on Central Pkwy. and Mohawk where he played for transvestite snake dancers.
Can't forget the Parktown Cafe, hangout for many of the lesser known local jazzers, where I jammed with the altoist Charlie Cox and the tenor players Ron Bramlage and Randy Prather. There was also Gooch's Web in Covington which featured Gooch on flute and Rico on organ. I met Bob Crowder there who later became Eddie Harris' drummer. There are many more names that enter the picture since back then there were numerous venues and occasions which permitted sitting in, such as New Dilly's on Mt. Adams and Billy's Bar near Rockdale and Reading Rd. There were also R&B joints which permitted honing my craft such as The Weinbar on Rockdale and Reading and the Cue Lounge on Dana and Montgomery Rd.s The Cue Lounge is now Metro Scooter of Cincinnati. I spent many a late night at the Cue Lounge with Bramlage playing blues and watching bar fights. Finally, let me not forget Al's Jockey Club near DeSales Corner, a dive that smelled of stale beer and urine....
Some more names that I recall as being significant in my own musical growth, names with whom I have been fortunate to perform: Don Lewis, tenor sax, Don Bennett, piano, Sonny Cole, piano..... And finally, did I mention Herb Kirshner's Whisper Room in Roselawn! Playing in that joint (and its brief Mt. Lookout reincarnation) made me an expert in the key of C! Thanks Herb. Does anyone remember Tom Powell's Funeral Parlor downtown, featuring a dixie-bop band which included Lee Stolar and Al Nori? I worked a brief trad gig with Bobby Guyer and Bill Gemmer at Mick Noll's Firehouse across from the Mother of God Church in Covington, where I first met Dave Pfeiffer.There are many more musicians I could name, but these are locally well known and I was fortunate enough to play with most of them. One final note...I did once get a dixie gig with Phil Olmes (cornet) where the trombonist was Bill Rank, formerly with Bix Beiderbecke. Such is Kismet.
A final note.... Bob's Lounge on Brotherton Rd. is no more. An erstwhile motorcycle hangout where we were hired to play and clean out the clientele, the band featured Wayne Yeager on organ, Warren Grace on trombone, me on sax and Ron McCurdy on drums. We succeeded in our mission and Popeye stole the gig.
Addendum: I must give sincere thanks to all the black jazz musicians who were my support system as my ego was being slaughtered on the bandstand. When I was first learning to play jazz there was an atmosphere of de facto racial divide among the local jazz players. Of course there were a number of musicians who crossed the line in either direction, the music being the cement that formed lasting relationships and friendships. Nonetheless there was a black musicians' union and a white one in those days, which later merged. Thus I grew up to be a "black" player.
Jazz also showed its face in Clifton at a place called King's Row across from Pete's News next to the firehouse. I first met Ron Bramlage at the College Inn, next to Pete's, where he was working with Tom Moreno. Sometimes they would have a big band night which included Don Steins and Randy Prather. Brams later moved further up Ludlow Ave. to a small lounge in the basement of an apartment building on the corner of Ludlow and Middleton. I forgot the name. I assume you know about Hoagy's Candlelight and the Family Owl which became a jazz hangout for awhile.
Oops.....forgot about the most important thing......I was in the 10th grade in high school(1960). Lied about my age to get into a joint called Jazz Bohemia in St. Bernard! That's where I first heard McGary playing a silver alto. His drummer was Vic Castellini, who grew up across the street from me on Dexter Ave. in Walnut Hills. He used to practice with the windows open and piss off the entire neighborhood.
I first heard Charlie Cox (alto) at the Seven Cities, a pseudo beatnik-folk underground joint across from the church at Scioto and Calhoun, the one that lost its steeple to fire. Seven Cities was owned by a cat named Lee Dorfmann who had initially opened Jazz Bohemia in St. Bernard. It later became the Mug Club, a rock'n roll beer hang for UC students. My wife skipped classes to hang there. I also played on occasion at the Golden Triangle where I first met Sandy Suskind, at the time playing tenor. Be sure to ask some of the older cats about Mother's on Peebles Corner. I know that Peagler's Jazz Disciples were quartered there and for a while it was home to Herb Geller.
Has anyone ever told you about Whitey's on Colerain where Cal Collins did a Monday night thing with Gordon Brisker, Alex Cirin, Don Gauck, Buzz Neal (died in Beverly Hills fire), Terry Moore, et al. One night Jimmy Raney was found passed out in his car in the parking lot, drunk to the gills. We brought him inside and he proceded to jam with Cal. Another memorable moment in jazz history too soon disappeared into oblivion only to be resurrected on this website.
Jazz Memories of Don Steins: The Modern Jazz Disciples
Not to be confused with the Modern Jazz Quartet, the Modern Jazz Disciples were a noteworthy but short-lived hard bop combo that was active in the late '50s and early '60s. The Disciples, who were led by the late alto and tenor saxman Curtis Peagler (born September 17, 1930, Cincinnati, OH, died December 19, 1992, Beverly Hills, CA), did not play cool jazz -- their acoustic bop was extroverted, aggressive, and hard-swinging (although they could be lyrical on ballads). The group was formed in Cincinnati, OH, in 1958 when Peagler got together with pianist William Brown (born December 10, 1934, Harlen, KY), bassist Lee Tucker (born December 19, 1933, Cincinnati, OH), and drummer Ron McCurdy (born March 19, 1933, Belfast, Ireland). The fourth member was William "Hicky" Kelley (born March 12, 1929, Cincinnati, OH), who was employed on two instruments that are hardly prominent in jazz: One was the euphonium and the other was a normaphone (a rare, little-known type of valve trombone that was shaped like an alto sax). McCurdy, an Irish immigrant who grew up in Belfast, had moved to the U.S. in 1951 and met the other disciples when he was attending the University of Cincinnati in the late '50s.
Playing locally around Cincinnati, the Disciples caught the attention of visiting tenor sax great Eddie "Lockjaw" Davis (who lived in New York but was in town for a gig at a club called Babe Baker's Jazz Corner). Davis was impressed by what he heard and he encouraged the Disciples to record a demo tape for him to pass along to Prestige Records (which he was recording for at the time). After listening to the demo, Prestige shared Davis' enthusiasm and signed the quintet to its New Jazz label. In September 1959, the Disciples entered engineer Rudy Van Gelder's famous New Jersey studio and recorded their self-titled debut LP. McCurdy left the group after that album, and Wilbur "Slim" Jackson became the Disciples' new drummer. With the new lineup in place, the quintet returned to Van Gelder's studio in May 1960 and recorded their second New Jazz LP, Right Down Front.
Had the Disciples stayed together longer, perhaps they would have become as well-known as Art Blakey's Jazz Messengers or the Jazz Crusaders. But regrettably, the group called it quits in 1961 and never recorded a third album. Peagler left Cincinnati for Los Angeles in 1962 and he went on to be employed by major artists ranging from Ray Charles to Count Basie. In 2001 -- nine years after Peagler's death from heart disease at the age of 62 -- Fantasy reissued the Messengers' two New Jazz albums back to back on a 76-minute CD titled Disciples Blues.

In high school Randy Prather & I would catch a bus every week to "Mothers" Jazz Club & set in the last set, great memories. Everyone in the group was very kind to us.
My Memories and Experience with the Golden Triangle and Emanon - by Pat Kelly
Going to the Golden Triangle Coffee House was one of my first forays into live jazz in Cincinnati .Sometime around my senior year in high school or shortly thereafter (1972-73) I learned of this jazz club that was in Clifton on E. McMillan near Vine. My friend Mark McLaughlin's mom had been there and had a friend named Sherry who was playing drums, I recall. Sherry, I had thought, was married to Andy Robbins who was the doorman/maitre d' of the club, (but I learned later that it was just a relationship and not a marriage). I was from the west side of town and didn't know anyone who played jazz and I was just learning on my own. My friends and I spent seemingly endless hours listening to Coltrane, Eric Dolphy, Mingus, Ornette Coleman, Chico Hamiiton, Les McCann, McCoy Tyner, Miles Davis, Frank Zappa, Barney Kessell, Jimmy Smith, Booker Ervin, Cecil Taylor, Bill Evans and other music, mostly in Mark's basement pad.
The Golden Triangle was a beautifully exotic place. It was one in a series of clubs run by pianist Ed Moss. By my calculations Ed was probably about 31 or 32 years old at the time. I was 18 or 19. Before this he had a place called Love's Coffee House which I never got to experience. I had also heard of Reality Foods in Mt. Adams. There was a group of people who hung together around Moss that referred to themselves as "the scene" They had been together for a number of years and they staffed the various enterprises. Among them were artists, craftsmen, bakers, musicians and others with various talents.
The Triangle was located in a building that now houses a bar/night club called The Mad Frog. The section that was the Golden Triangle has been gutted to make a dance room, a dingy and nondescript place as compared to the Golden Triangle. When the Triangle existed, in the east portion of the building with its own East McMillan entrance, the bar on the corner was called the Delmar Cafe, an "old man" bar. Later it became Cory's which hosted music, including H. Bomb Ferguson, Pigmeat Jarrett and Jimmy McGary, for many years (which began during time that I lived in Pensacola, FL between 1983 and 1986).
The decor of the Golden Triangle was rich and appealing, at least to me, with its Persian rugs, stained glass, triangular tables, and Middle Eastern styled wall appliqué. The music room, to the left as one entered, had a bandstand with a small grand piano on a riser, book shelves that went from floor to a high ceiling, low tables, either on the floor or on platforms, and legless chairs with backs for "on the floor" seating, or the listener just leaned against the wall or pillows on the platforms. There was a small 2-seater booth in the rear. The menus were drawn with beautiful calligraphy and the lighting was always kept low.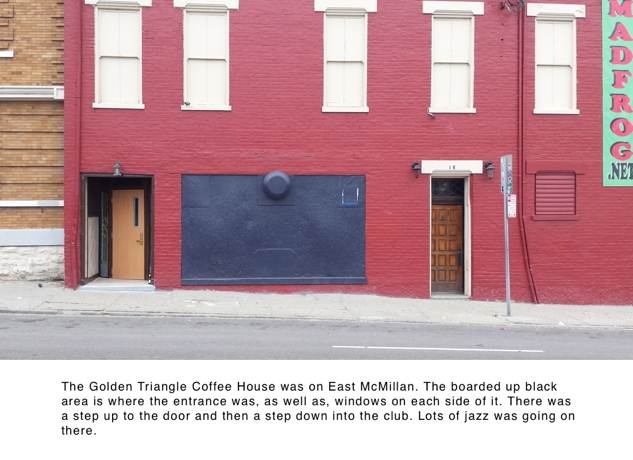 The front entrance room, into which one stepped down from the street, had a raised service bar with an espresso machine - the first I had ever experienced - that itself was exotic, to me. The club would feature one gourmet entree per night and always excellent pastries made by staff/scene members. There was a large circular stained glass window with an eye within a triangle high on the back wall facing the entrance door that rolled back to expose a sleeping area. There was a large cast of characters in the scene but I mainly remember Jimmy, John, Art H., Art Q., Chrissy, Caryn, Debbie, Barbara and Andy. Others I didn't know.
The music on the phonograph (yes, that's what was used to play music in the early 70s) was always very great, straight-ahead jazz. Art Blakey and the Jazz Messengers, Ahmad Jamal with Voices, Billie Holiday, and Sonny Rollins immediately come to mind. Jazz was THE thing of this place. Nothing else. No TV, no sports. The staff was into jazz, the "management" was about jazz. If you came into that place you had better have been about jazz or you would have been confronted and hassled about it by someone. This is where I and many of my contemporaries and future longtime friends were baptized into the jazz world. There were many regulars - beatniks and hipsters (the word had a different meaning then) and jazz aficionados - who I recognized and got to know. I recall composing and notating one of my own pieces, "Weird Asparagus" while sitting at a table there.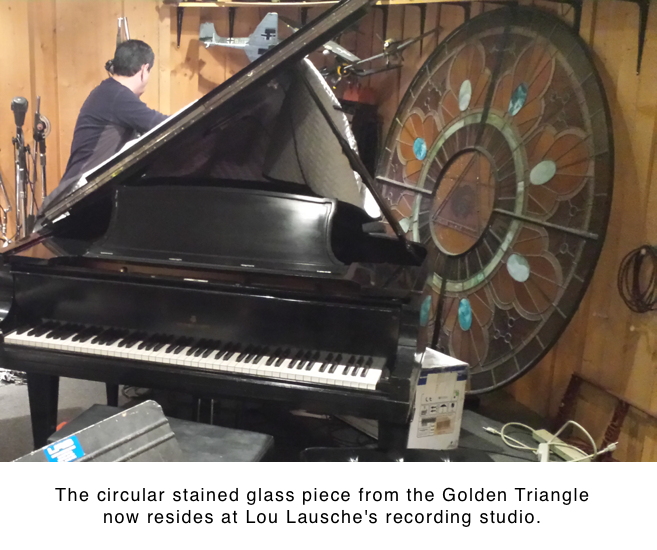 I often went to the Triangle alone. I was working a full-time day job at the University of Cincinnati Main Campus Library at that time for a couple of years - I didn't go to college full-time until 7 years after high school. Other than work,I pretty much hung out, listened to jazz on records and in live situations, and played with others when I could. I practiced piano a lot at that time, especially since I hadn't begun lessons until age 18, having been self-taught before that. I had previously had no technical training on piano or jazz and I just used my ears. (I had learned to read notes from a couple of years of trumpet lessons in late primary school.)
The live music at the Triangle didn't commence until 10:30 or 11pm. I'd go there on work nights and stay until 1:30am, drive back to Price Hill or wherever I was living at that point, sleep and have intense espresso dreams, and get up to be at work at 8am. I would do this at least 2 or 3 times each week.
The first musicians that I heard there were Ed Moss on piano, Bud Hunt on bass, and Sherry Robbins on drums. Sherry had long red hair and was an attractive woman but pretty minimal on drums, if my memory serves me. She kept time adequately. Soon I would be more likely to see Brett Wamsley, Ron Enyard, or Dee Felice on the drum kit. Kenny Poole would sometimes play guitar. It was also during this time that I first heard the bassist Lou Lausche.
Bud Hunt was a longtime Cincinnati area bassist with a connection to the community of Evansville, IN. where he had a keen interest in its local "horticulture and botany". Moss was pretty unapproachable for me but during breaks I would ask Bud the names of tunes that they had played, most of which would all seem strangely familiar to me. I wanted to learn them all. Then on Fridays every other week after I was paid at the library I would go to "Sight In Sound", a big record store at Queen City and Grand in Fairmount, and buy a half dozen or more jazz albums that contained some of the tunes I had heard the previous 2 weeks. At the Triangle, I would sit in the back booth with a cafe au lait and draw music staves on napkins and transcribe licks as the band played. Then I would go home and stare at the ceiling thinking about musical ideas. I took a music theory class at CCM as a non-matriculated student while I worked at the U.C. Library in 1973 or 74. A fringe benefit of university employment was free tuition.
When I worked in the mailroom and bindery at the library I met a young lady who was friends with a bass player with whom she had attended Walnut Hills High School. Through her I met my friend Marty Wittow. And through Marty I eventually met saxophonist/flutist Sandy Suskind, bassist Ed Felson, trumpeter Eric Wolfley, drummer Marc Wolfley, and pianist Fred Hersch, all Walnut Hills grads who were deeply into jazz. This became my jazz community. Their contemporary at Walnut Hills was saxophonist/flutist Rick VanMatre. Another 2 musicians who were contemporaries and part of that group of young players were guitarist Bill Radin and trumpeter/pianist Mike Moore, who had come to Cincinnati after attending college together in Madison, WI. Mike's father had been transferred here by Federated Department Stores and Mike discovered a vibrant local jazz scene and told Bill about it. Bill visited, heard Cal Collins play, and decided to move here, as well. There was another piano player, a couple or so years older than us, named Bob Krueger, who played at the Triangle and was a part of that jazz scene.
There were, of course, other jazz scenes in Cincinnati. But this place became the meeting and gathering place for some of the young white guys at that time. Jim Anderson and Bobby Scott were already active with the Cohesion Jazz Ensemble and there were probably a lot more black clubs around besides the Viking Lounge, Soho Underground, and Roberts' Neoteric Lounge. I just didn't know about them. Wilbert Longmire was around and working on developing a national reputation. Art Gore had already left Cincinnati for New York by that point and didn't come back until 1980. Guys like bassist Mike Sharfe and saxophonist Steve Hoskins were around and playing jazz in other places. Eventually Mike also played with Moss for a time. Phil DeGreg must have been at Yale earning an undergrad degree at this time and then on to North Texas State. I didn't meet him until much later, although he is from here. I met Steve Schmidt later when I played at Emanon. There were lots and lots of others to whom I had yet to be exposed but people ran in different circles.
Marty told me about a weeknight gig that he was playing at the Triangle with Mike Moore and Sherry Robbins and that was the first time I heard anyone other than Moss there. All of of us would listen and hang out there. Since the music started late and went on into the wee hours many musicians would show up after their other gigs. I remember hanging out with saxophonists Randy Prather and Victor Buttrum late one particular night. Sometimes the place would still be packed after 2am and the doors would be locked. There was no liquor license so I don't think the hour was the issue. I remember a night the great pianist Billy Brown, formerly of the Modern Jazz Disciples, came in with his nephew, drummer Eddie Wade. I have heard recordings of him in his prime and he was as good as it gets. He was no longer playing at that level and was angry and bitter. I wish I could have heard him back in the late-50s or early-60s. I think I met Chris Von Volborth for the first time there. Moss used a conga player named Chico for while. Saxophonist John Wright would sit in. Pianist Bob Krueger had a trio at the Triangle with Ed Felson on bass and Melvin Maddox on drums. The fact that a musician, Moss, had his own club, seemed really impressive to me.
I got a call at my apartment on Wheeler St. one day and was invited to jam session at Eddie Felson's house in North Avondale. I forget who were all there but it was the first time that I met Sandy Suskind.
Later during this period I was in my first working jazz group that played at a club called "The Owl" that was located upstairs in a building that had previously housed a more famous club called "The Family Owl". This band, called Group Effort, consisted of myself on piano, saxophonist Jeff Zavac, guitarist Scott Lawrence, bassist Ed Felson, and drummer Mike Dollen. I was just getting my feet wet with jazz and had absolutely no chops, but probably had something about my playing that created the illusion that I knew what I was doing. There was a jam session at the Owl on one Sunday night where the drummer Grover Mooney was playing and he told trumpeter Mike Moore that he wouldn't play with me - that I just wasn't up to the right level. That kind of stung. But several years later, after Grover had moved to Boston, Jimmy McGary told me, "Grover would play with you now".
I first met Eric Wolfley at a gig at the Owl. I had seen Eric, Fred Hersch and Marc Wolfley as members of the Walnut Hills H.S. jazz band at a concert at Wilson Auditorium the previous year and I recognized him. I happened to be looking for a place to live, as I had temporarily moved back in with my parents, and Eric was looking for a roommate at his apartment on Howell Ave. His roommate and high school buddy, Fred Hersch, was getting ready to move to Boston to study at the New England Conservatory. I took the apartment and bought Fred's DeKalb baby grand. Fred and I got together and talked jazz piano at the Golden Triangle on an afternoon the day before he left Cincinnati for good.
At this same time period Moss and his associates were opening his Emanon Jazz Club at the corner of Jefferson and Nixon, near the EPA. It was pretty much the same cast of characters from the Triangle, plus Joanne who ran the bar and Karen T. who was Moss' girlfriend at the time. And there was another functionary/quasi-bouncer named Peewee who was a regular. When Moss opened this club his regular rhythm section was bassist Bob Bodley and drummer Barry Ries. I didn't even know or realize at that time that Barry was a great trumpeter. That band played 5 nights a week or more for years and I spent many hours listening to them. Bob and Barry both eventually left for New York, where Bob played with Art Farmer and Barry played with Horace Silver, among many others.
Moss provided a place for all of us to play. And I do realize that he got something in return but there was a respect accorded us and the opportunity to learn "on the job". But it was mixed with a brutal teaching style that was, at times, degrading and painful, and which ultimately ended in everyone eventually leaving. But some of the time while we were there it was great fun. Always a jazz atmosphere, good food, a staff that was supportive and encouraging and there were nice crowds. This was jazz school for me in the early and mid-1970s. I played an early solo piano set at Emanon and sometimes played the first set with the trio while Moss played tenor. Yeah, it was a painful learning experience because I was actually, objectively speaking, not ready. It was going to be painful with Moss, no matter what. It was an accelerated course in learning musicianship. But others might have dismissed me but Moss recognized my seriousness and let me play and I am grateful for that. Sandy Suskind became a part of the Emanon band with Ed, Bob and Barry and played there for years. He was also subject to Moss' demanding standards.
There was a series of live remote Saturday afternoon broadcasts on WNOP from Emanon. Ed's group always played, with Sandy, or vocalist Teresa Ross. I was in a band called the Nouveau Jazz Quintet, consisting of myself on piano, Ed Felson - bass, Rody Hassletine - drums, Mike Moore - trumpet, and Art Quitman - tenor sax, that also played on one of the broadcasts. This was a period when I was transcribing lots of quintet arrangements from records. We had arrangements of things by Mingus, Booker Ervin, Horace Silver, Wayne Shorter - none of them store bought!
After Bob and Barry left there were different rhythm sections that played with Ed. I remember Lester Bass on bass (He had an instrument from the 1700s!). Donald Litman played drums for a while. Dee Felice played drums and Bill Radin was on electric bass for a period. I remember hanging out in the basement with Dee and he was practicing with his sticks playing along to the rhythm of the air conditioning pump. Ed Felson and Marc Wolfley also played with Moss at different times. Bill Radin played a solo guitar gig for the daily jazz lunch for a while that was advertised on WNOP. In order that he not get in trouble with the Musicians' Union for playing a non-union job he was billed as "Llib Nidar". This is essential jazz history, folks! Fred Hersch would play when he was in town and a young Steve Schmidt began playing gigs and getting notice.
I don't know how long my experience at Emanon lasted but I do definitely remember that they brought in a TV for the first time when the Reds were in either the 1975 or 1976 World Series. I think I remember standing at the bar and I was 23 years old, but there is a lot that is foggy about that time. I guess that would make it 1977.
I saw Moss scream at patrons who talked while he played both in the Golden Triangle and Emanon. He would lecture that it was "his club" and that he made the rules. He ran one clean looking young couple out of the Golden Triangle who were apparently out on a date, because they were discussing the menu while he was playing. He slammed the key cover of the piano down and cursed at them. They rose to leave looking confused and terrified. Moss followed them outside the door and screamed at them at the top of his voice out on East McMillan St. They had done nothing wrong - I saw the whole thing. This was not unusual and Moss had earned a reputation for this behavior. I just kept a low profile and out of the way, observing all of the weirdness, including his workers all walking on eggshells when he was in a dark mood. "Ed's in a weird bag," one associate cautioned me as I arrived for work one night. This was over 40 years ago and he has "mellowed" with age, one might say. Who knows what made him this way? Ed had some issues. But he is a tremendous talent and has contributed greatly to the sustenance and longevity of jazz in this town, especially during times when there was not much else going on. Moss' "scene" was seminal for many of us. I also credit his associates in "the scene" who were always encouraging and treated us well.
At about this time I became discouraged about my playing and laid low musically for a time. I took a full-time job at Harry Garrison's Player Piano Shop for 3 years up until 1980 when I went back to school. Bill Radin and Marc Wolfley went on to play in the locally very successful Crosswind band. After a neon sign emblazened with "Blue Wisp Jazz Club" was hoisted outside the sleepy little bar/diner next door to Harry's shop on Madison Rd. in O'Brionville one day in 1978 I asked Harry what was going on. He smiled a mischievous smile and said, "You'll see, Patrick. You'll see!"
The first weekend of music at the Blue Wisp was the band Crosswind. The next weekend I took over the gig with a trio consisting of myself, Marty Wittow on bass, and Jon Vinegar on drums. Soon, at the suggestion of Fred Hersch who was then living in New York, I called saxophonist Jimmy McGary, who joined the band. We had a nice scene going for about a year. Cincinnati was starved for jazz and the crowds filled the place. Other musicians and bands took notice of the club and began working on other nights. We left in a dispute with owner Paul Wisby and moved to Edwards Manufacturing Company. This was the beginning of the Blue Wisp era.
Memories and History of Popeye Maupin contributed by Doug Yeager
James "Popeye" Maupin was born in Cincinnati in 1917. He always said his father had been a 6'8" Liberian Prince who played in the original Harlem Globetrotters. As a child, Popeye played the drums and danced on the streets of Cincinnati as people walking by would throw coins. However, he would say that his show biz career really began, when there was a notice in the paper one day that if someone would wrestle a bear at the Emory Auditorium he would be paid $100.00. Twelve year old Popeye, already over 200 pounds, took the challenge and won the $100.00 The next year he rode a Brahma bull bareback at Crosley Field for $300.00.
| | |
| --- | --- |
Before WWII, he went to New York, became a Lindy Hopper, and was then hired to dance in the chorus of the Broadway show "Helzapoppin." A conscientious objector during WWII, he served two years in prison. He lost his eye in a construction accident. During the late 40s and into the 1950s, Popeye ran the Cotton Club in the West End for the Newport mob. It was one of the most famous black clubs in the country, holding more than 1,000 dancers per night. Every big band coming through the Midwest, had to go through Popeye, who got a piece of the action. When the government closed down the Cotton Club, Popeye managed the Sportsman Club in Newport. Like the original Cotton Club in New York, the mob wouldn't allow Blacks in the Sportsman Club. However they entrusted Popeye to run it.
In the 1960s and 1970s, Popeye reinvented himself, embraced the hippie lifestyle, and move to Mt. Adams, where he was identified as the Mayor of Mt. Adams and the grandfather for all the hippies passing through Cincinnati. Whenever he was asked how old he was, he would respond, "Two days older than dirt." In the early 1970s, I took Popeye into Rich & Ellie Goldman's 5th Floor Recording Studio, with Wilbert Longmire on guitar, Wayne Yeager on organ, John Young on bass, Grover Mooney on drums and Jimmy McGary on sax. We recorded an outrageous Longmire tune, "Sumpin' T'eat," "Nightlife," and "Cherry Red." Candidly, I can't tell the difference between that cut and this one. . . . Popeye singing "Cherry Red".
In 1972, I brought him to New York to become Popeye Arlens for the Arlens Department Store chain. He toured the country with his band, dressed like the Sultan of Kurdistan, and re-opened all the Arlens' stores across the country. In the 1980s, he moved to Los Angeles, lived in Hollywood and sang in all the clubs. He also became best friends with David Carradine. Around 1991, Popeye had a severe heart attack, and was brought back to life by medics with electric shock. In 1993, as his diabetes grew more severe, doctors told Popeye that he might lose his legs, he moved back to Cincinnati. Sadly, he was hospitalized and had his legs amputated. Soon thereafter, his heart finally gave out.
Popeye was the most lovable, funny, big-hearted Santa Clause of a personality anyone would ever meet. On July 26, 1993, Popeye's funeral was presented at Southern Baptist Church, at Reading Road and Lexington. Reverend James Milton presided. I loved Popeye and will forever miss him. Doug Yeager.

A Piece Written Upon The Death Of Harry Garrison - Pat Kelly
Who is Harry Garrison?
Harry Garrison, who died on September 20, 2013, just a week short of his 78th birthday, was the proprietor of The Player Piano Shop. His business rebuilt player pianos, and conventional pianos. I met him in 1975. I started working for him full-time in 1976. He was also a magician on stage, a smoke ring blower, a major collector of 78rpm recordings, art collector, and a former trustee of the Classic Jazz Society of Southwestern Ohio. The late Frank Powers was his best friend. Harry was a character, a super intelligent man with encyclopedic knowledge, a humorist, and a lover of the arts, especially music.
Origins of the Blue Wisp
I was working out on the sidewalk in front of his shop at 2029 Madison Rd. sometime in 1978 and noticed a hydraulic lift truck hoisting a sign to the bar/diner 2 doors away. The sign said, "Blue Wisp Jazz Club". As an aspiring young pianist who had paid some early dues on the Ed Moss scenes at The Golden Triangle and Emanon, and at jazz gigs at Shipley's, Miller's Pub and a variety of other places, I was mystified. I looked at Harry and said, "What is this? What the hell is going on here?" Harry grinned and said, "You'll see, Patrick, You'll see!"
Why the Blue Wisp became a jazz club instead of a country/western bar
Paul Wisby, an early retiree from General Motors, due to a heart condition, operated the bar and diner 3 doors from the main building of The Player Piano Shop. I ate lunch there sometimes. I had seen Paul face down at the end of the bar on more than one occasion. He was a lanky, friendly, country sort of guy. Harry resided above his business at 2029 Madison Rd. When Paul told Harry that he was going to bring in country/western music to his club (no Blue Wisp Jazz Club sign yet) Harry wanted to dissuade him because he did not like the prospect of drunken fights and gunfire outside his residence. He also would have preferred music more to his own preference.
He told him, "No, Paul, you don't want country/western music, you want JAZZ!" Paul responded quizzically with, "JAY - IZZZ?!!!!"
Harry's patronage of the original Blue Wisp jazz scene
Once the sign was up, and after a couple weeks, there was one weekend where music was provided by Crosswind, a popular jazz/pop/fusion group. On the Saturday night of that gig, Paul Wisby gave me the gig for the following weeks.
Harry put a Steinway B grand piano in the club which, at that time, had a kitchen, a pool table, and pinball machines. The house band for the first 4 or 5 weeks was (Let it here be known--): Pat Kelly - piano, Marty Wittow - bass, Jon Vinegar - drums. At the suggestion of my friend Fred Hersch, who was then living in New york and making a name for himself, I called Jimmy McGary and asked him to be on the gig. He came by on a Saturday night after his wedding band gig, thought it was a hip scene, had fun playing with us, and decided to join us on the gig. Soon Donny Gauck became the drummer. I can't recall why Jon left. We became the house band.
Harry kept a piano of some sort in the Blue Wisp for years. The Steinway came out, a Weber went in. Later he put in a 9 ft. Baldwin. He never charged a cent. He drank there, and entertained with smoke ring shows and humor. Many a time we went to his apartment after the gig to hang out, listen to his recordings and have a nightcap with the band members, Popeye Maupin, and other friends. On a couple of occasions he drove the inebriated Jimmy home to Withamsville. BTW, we had a happening scene. The pool table and pinball machines were gone. We brought in a PA system for Paul to purchase. We initiated WNOP nights that were highly promoted and well attended and brought in guests - especially Cal Collins who hit it off with Paul due to the country connection. The place was jammin'. Our Thursday jam session were standing room only. I remember one time when a newcomer drummer to the area who was playing brushes on a phone book behind Kenny Poole at the Celestial came by. It was John Von Ohlen - the great veteran of Stan Kenton and Woody Herman and other great bands - who later became a staple of the club.
How the Blue Wisp (Marjean) screwed over Harry
Harry moved the 9 ft. Baldwin to the Garfield Place location (the Wisp's second) after the club was forced to vacate the Madison Rd. club. (At this point, I, Jimmy, and our band was long gone. I think Jimmy called Paul a stupid, f------ hillbilly in an argument about money. We were fired. We had been there 3 nights a week for about a year and a half.) But the Wisp was in a Golden Age with JVO, Steve Schmidt and either Mike Sharfe or Lynn Seaton on bass as house trio. The Blue Wisp Big Band had formed and was successful.
Marjean, through someone, arranged to purchase a new grand piano from Krefting Pianos, a competitor of Harry. Negotiation with Harry was bypassed. It was just done - after years and years of patronage and providing a professional instrument - they spent money with someone else. Ingrates. It wasn't right. Harry never stepped into the place again nor spent a cent on them. And he was quiet about it - didn't want to make a big deal about it.
Harry was a good guy. I learned a lot from him as an employee and had lots of good times, too. If I may quote my friend Marc Wolfley:
"Harry was one of the most colorful Cincinnati characters I had the good fortune to know...a generous man who loved music and this community deeply. A merry gentleman who's presence will be missed and fondly remembered."
Let's celebrate Harry - because there would have been no Blue Wisp Jazz Club without him. The Paul and Marjean part of it was a fluke.