2016 ~ Music Director/Conductor of performances of West Side Story at Loveland Stage Company
2011 ~ Musical Director The Mikado Loveland Stage Company. This was a summer workshop youth performance. I adapted the piano score for 2 keyboards, woodwinds and percussion.
2006 - 2011 ~ Music Director New Thought Unity Center (Church). I spent over 5 years, leading the music program, preparing a new musical presentation with guest performers each week and directing a choir. I challenged the choir musically and it greatly improved during my tenure. I also composed and arranged many choral arrangements.
2006 - present ~ I resumed leading my 13-piece PsychoAcoustic Orchestra with a regular monthly engagement at Blue Wisp Jazz Club. This ensemble of highly skilled professional musicians has been my primary vehicle for composition over the past 20 years.
2005 ~ Musical Director The Rebels Are Coming Glendale, OH
2003 ~ Composed score to feature film Artworks
Other assorted recordings on which I have performed and/or arranged:

The Joint's Still Jumpin' - A Jazz Compilation from Cincinnati Public Radio (2017)
Whisper to the Wind - Janet Staley (2016)
Ring! Vol. IV ~ A Cincinnati Keyboard Christmas for Public Radio - Pat Kelly 5-piece (Oct. 2013)
Ring! Vol. III ~ A Cincinnati Keyboard Christmas for Public Radio - Pat Kelly Trio w/Voices (Sept. 2012)
Ring! Vol. II ~ A Cincinnati Guitar Christmas for Public Radio - Bluebirds (2011)
Wonderland - Deborah Locke (2007)
One True Love - Bill Wood and the Last Trumpet Band (2006)
WNOP Farewell Gala: Live From The Catacombs - Zoot Yoder & the Amish Infiltrators (2001)
Live at Havana Martini Club - Fiesta Del Soul (1998)
Groovin' High - Pete Pedersen & Friends (1996)
WVXU Christmas CD: X-Star Jazz Christmas - PsychoAcoustic Orchestra (1996)
Jammin' On Main - PsychoAcoustic Orchestra (1996)
WVXU Slice of Live - Chris Philpotts Group (1988)
Vfüh, Vfüh/Swordfish Drive - Cabin 2 (1979)
2000 ~ Sweet Basil Jazz Club NYC w/Teri Thornton. Asked by my friend, Teri's manager Suzi Reynolds, I filled in on an engagement that regular pianist, Ray Chu, couldn't make due to another commitment. Musicians who stopped by to listen: Cedar Walton, Ronnie Matthews, Russell Malone, Lionel Hampton, Billy Higgins. What a gas!
1998- 2004 ~ Staff producer J Curve Records. I oversaw the scheduling and recording of complex musical projects, maintained quality control; arranged music and performed, as needed. I coordinated all aspects of production, including preparation of packaging, writing and/or proofreading of annotations, and distribution.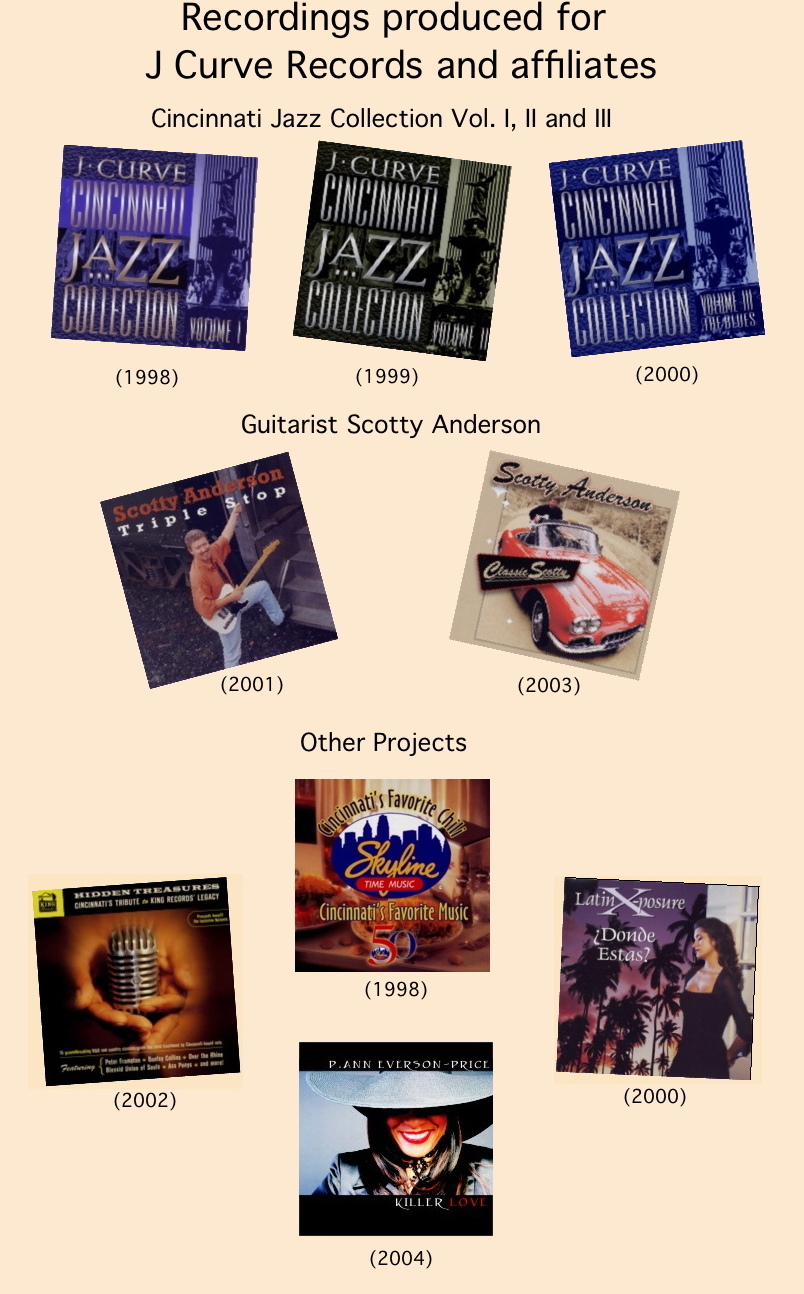 1997-2005 ~ Arranger/Co-leader of Latin X-posure -- Salsa/Merengue/Latin Jazz group
| | |
| --- | --- |
| The PsychoAcoustic Orchestra was recognized as "Best Big Band" by Cincinnati Magazine in its 18th Annual "Best & Worst" issue, with absolutely no lobbying or ballot box stuffing on our part. The PAO had created quite a buzz at that time. | |
1996 -1997 ~ I maintained a 5 night-per-week engagement at the Seafood 32 Restaurant of the Regal Hotel in Downtown Cincinnati for 2 years. I played solo piano one night, duo two nights, and trio on Friday and Saturday nights. That kind of gig is unheard of in 2012.
1996 ~ With the financial help of friends/investors, I released my second PsychoAcoustic Orchestra CD, Reactivation.
1994 ~ With the financial help of friends/investors, I released my first PsychoAcoustic Orchestra CD, Supreme Thing.
| | | |
| --- | --- | --- |
| | | |
1991 ~ After a few years of sporadic composition I became industrious and created a body of work to form the 13-piece PsychoAcoustic Orchestra. I first purchased a dozen Manhasset music stands with lights, set them up in my basement (with chairs), put empty folders on them, and began to slowly fill them with music as I composed it. I actualized my wish to have a large ensemble for the performance of my original compositions and arrangements by visualizing its coming into existence.

Read 1993 article in Cincinnati Enquirer by Cliff Radel here.
1986 ~ I returned to Cincinnati from Pensacola (with wife and child). Worked various music gigs at: Commonwealth Hilton, Vernon Manor, Hyatt Regency Cincinnati, Omni Netherland Plaza, Dee Felice Cafe, Doc's Place, Joannie's Harmony Club.
1983-1986 ~ I lived and performed in Pensacola FL, Destin FL, and Gulf Shores AL. I purchased a Hammond B-3 and another 122 Leslie.
1983 ~ I relocated to Pensacola, FL and played in The Garcias band.
1982-1983 ~ Groove Organizers with Sandy Suskind, Tim Hagans, (and Brian Baverman, Marc Wolfley or Art Gore ); played the 1983 WNOP Stone Valley Jazz Festival. At this time I was playing a Hammond CV and a 122 Leslie tone cabinet.
1979-1983 ~ Studied musical composition (Joel Hoffman, Allen Sapp), earned bachelor's degree at U.C. College-Conservatory of Music; awarded Bertha Langhorst Werner Scholarship in composition. I studied piano with Margaret McNamara, Eugene Flemm and Charles Clevenger.
| | |
| --- | --- |
| This is the last one of these things that I earned. I went to college as an older student. All of the other work that I have done constitutes my equivalent advanced degrees; I created my own hoops through which to jump. | |
1979 ~ Record LP The First Time with Jimmy McGary Quartet
1978 ~ Inaugural house pianist at Blue Wisp Jazz Club; later joined by saxophonist Jimmy McGary to form the River Quartet
1976-1979 ~ Apprenticed in piano tuning and repair at Harry Garrison's Player Piano Shop (2 doors from the Blue Wisp on Madison Rd.), working along side of 3 craftsmen who had each spent 30 years at the Baldwin piano factory. I also continued my musical education by listening to many piano rolls (especially those transcribed by the great J. Lawrence Cook). Harry talked Paul Wisby into having a jazz policy rather than country & western. I watched workmen hoist and mount the original Blue Wisp neon sign.
1974-1979 ~ Cabin 2 avant garde band with Steve "Doc" Luganani, John Rieder, Eric Wolfley, Jess Hirbe, Byron Stevens, Mike Moore and others. We were a group of musicians, some of whom who had formal training and others who had no training at all. We played both conventional and non-conventional instuments and all of our music was spontaneously created. Dozens of performances were recorded on cassette tapes, we released a 45, and we had 1 video taped performance at the Great Hall of the Tangeman Center at the University of Cincinnati. We took the name of the rock band I had formed years earlier. Cabin 2 Music is also the name of my record label.

At this same period I was involved in a loft scene in Downtown Cincinnati at the corner of 8th & Sycamore Streets. My roommates and I rented a 5000 square foot loft which served as our home, rehearsal studio and sometimes concert venue. Besides performances of Cabin 2, there were events there featuring future jazz stars Joe Lovano and Fred Hersch. I had my first personal "composer's workshop" sessions there, hearing readings of my compositions, including a prototype ensemble of what would become the PsychoAcoustic Orchestra years later.
1974 -1976 ~ I played solo piano and trio at Emanon Jazz Club and with Nouveau Jazz Quintet. I was just learning and was given the opportunity to figure things out on the job.
1972 ~ Bought Fender Rhodes (with help of my brother John - Thanks for signing off on the loan!) and started trying to play jazz. I took first classical piano lessons w/Powell Grant, Jeff Jacobs, Bob Muckenfuss at CCM Prep Dept.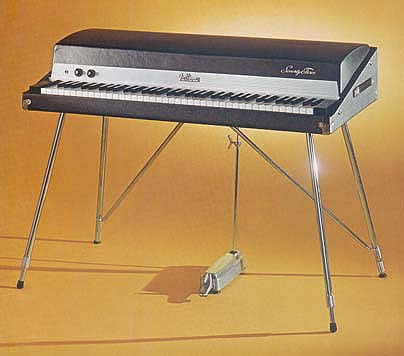 1968-1970 ~ I joined Purple Fringe as lighting designer. I also eventually sang background vocals offstage. Purple Fringe morphed into Cabin 2, the first band in which I played organ. I had a Baldwin Orgasonic and a 145 Leslie. Later I purchased a Hammond L-122. This was the first period in which I began to compose original music.

While on a walk, around this time, I had an awakening about music structure and intervallic relationships. This soon led to a greater understanding of harmony and chords. Although I had not been trained thoroughly in music as a child, this awakening of my musical apptitude is what later resulted in my full academic scholarship at the College-Conservatory of Music.
1969 ~ I spent 1 year in Elder High School Marching Band. Not really my thing, at the time. I switched over to Western Hills High School in the middle of my sophomore year, where I did not participate in band. This was the end of my career as a trumpet player.
1967 ~ I sang in my 1st band, The Seventh Hill (also perfomed as Patrick & the Snakedrivers) - began to explore piano and guitar (self-taught) and to consider the idea of musical arranging.
1964 ~ Naturally drawn to music. Trumpet lessons in 5th grade with Rodney Ellis at Wurlitzer Music (incidentally, current location of Blue Wisp). Joined middle school prep band led by Lee M. Trauth, Elder High School band director. I recall watching programming on WCET (the local educational television station) hosted by Leonard Bernstein, in particular, one show which featured a woodwind quintet composed by Karlheinz Stockhausen.
1956 ~ I noticed my Mom, Dorothy, playing St. Louis Blues on piano in stride style.